Anomaly Containment System (ACS)
SCPs are classified through the Anomaly Containment System. Including Disruption Class (secure), Containment Class (contain), and Risk Class (protect).
Containment Class
Safe

SCPs that are very easy to contain or that don't need many resources to contain. That doesn't mean that SCP is not dangerous, just simple to contain
.
Euclid
SCPs that require more resources to contain completely or where containment isn't always reliable. Usually this is because the SCP is insufficiently understood or inherently unpredictable.
Note: SCP that can act on their own are generally classified here.
Keter

SCPs that are very difficult to contain or haven't yet been contained. Generally the resources to contain these SCPs are limited. This doesn't mean the SCP is dangerous; just difficult to contain
Thaumiel
Neutralized
SCP that have been destroyed or disabled by intentional or accidental means
Written as follows:
Item #: SCP- ∞ (or SCP- ∞)
Containment Class: Neutralized (formerly safe)
Apollyon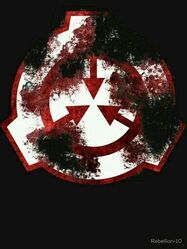 SCP that are impossible to contain and/ or are expected to breach containment. Usually associated with world-ending threats (or K-Class Scenarios), it requires a massive effort from the Foundation to deal with.
Archon
SCPs that can be contained but are decidedly uncontained for some reason. (It may be a part of our 'common knowledge' of reality or have worse retribution if put into containment.)
Disruption Class
Dark
Not very likely to disrupt the general population.


Vlam
Not likely to disrupt the general population, typically confined to a locality.


Keneq
Likely to disrupt the general population, typically confined to a region or city.


Ekhi
Extremely likely to disrupt the general population. Disruption is typically widespread, affecting major metropolitan areas or countries.


Amida
Worldwide disruption of the general population. Disruption is global. Threats may disrupt an area larger than Earth.
Risk Class
Notice
Low risk potential. Individuals nearby may feel small effects, but it rarely poses any harm.


Caution
Moderate risk potential. Individuals nearby will experience the effects, and it may cause harm.


Warning
High risk potential. Individuals nearby will be at risk for experiencing severe harm, up to and including death.


Danger
Very high risk potential. Individuals nearby will inevitably be exposed to harm, up to and including death. These effects are difficult to help.


Critical
Extremely severe risk potential. Individuals nearby will inevitably be exposed to serious, life-threatening harm. These effects cannot be helped.
Esoteric Class
Sub-Containment Classes that are created for specific incidents/ SCP (not always seen as 'canon').
Ticonderoga
Item cannot be contained but does not need to be contained.
Uncontained
SCP the foundation is aware of but have not been contained yet.
Cernunnos
Item can be contained, but the Foundation cannot because of logistical or ethical reasons.
(Cite the Ethics Committee™ and Logistics Department.)
Decommissioned
SCPs deleted and an example of what not to do. (Previously, if an SCP got downvoted enough, mods would delete it. Not cool.)

Yesod
Item has been integrated into the Foundation's command structure.

(Ex: SCP-001, or "God's Blind Spot" area, is used as an SCP HQ, protects important admin ie the 05 Council.)
53

An SCP Ranking 53 is highly intrusive, has unknown capabilities, and an unknown nature. That is, when an anomaly is discovered, it is a 53, and after discovering what it does, it will be classified with another Class.
Zeno

A Zeno Rated SCP is an SCP that is difficult to contain but not dangerous or not dangerous at all.Even though there is no danger, special containment procedures must be effective to prevent their escape or a breach.
Heimal

It would be two or more beings with the same powers, as they can be twins or clones Or Beings that control the powers of the other SCP but do not control theirs and the others do the same thing Or Beings that can be together to help their powers
Tiamat
Item poses an immediate threat to humanity, but can be "contained" via open warfare or other Veil-breaking operations.
Chhokmah
Item is entangled with baseline and its containment would affect intelligent entities.
Continua
Item has been affected by the disappearance of a part of the anomaly.
Drygioni
Item is currently under an official investigation for authenticity by the Overseer (05) Council.
Embla
Item is used by the Foundation to create anomalies.


Eparch
Item is non-anomalous but related to the anomalous.
Gevurah
Item endangers the inner structure of the Foundation and limits the ability of the Foundation to carry out its secondary objectives.
Declassified
Item has been revealed to the Foundation and public at large.
Maksur
Item has been separated into several parts which must be kept separate.
Necropsar
There is no credible evidence to support the existence of Item in a kind of social history. However, through the observation of historical view the validity of project existence can be confirmed from other historical processes. A series of signs/symptoms may/will exist in the Item can be found.
Roll
Errors such as garbled code are caused by abnormal items in project classification.
Secondary Class
SCP classifications that are uncommon (not always seen as 'canon').
Containment Class
Unclassed
Object classification has been intentionally avoided.
__
Object class has been omitted.
Safe
Object class is being lied about.
Others:
[DATA EXPUNGED]
Debated
ERROR
[REDACTED]
Disruption class
Infrared
The amount of disruption that this item is producing cannot be discerned.
Erloschen
May cause great shifts in reality, however due to altering reality these effects are considered normal.
N/A
Disruption class is inapplicable due to the veil being broken.
Null
Item is intentionally exposed to the populace, making a disruption class inapplicable.
Death Class
Death
Causes immediate death without clear reason.